Cloudwheel Rovers 165R fit Backfire Hammer/Hammer Sledge is available. Limited quantity available! Order Now!
Exclusive Patent DFC Damping Technology
CLOUDWHEEL is powered by an exclusively patented DFC damping technology. As a major innovation in the industry, DFC sampling technology enables to eliminate more vibrations than that used in traditional PU wheel designs.
Better Shock-Absorbing Performance
CLOUDWHEEL Rovers vs Ordinary PU wheel.
Better experience, more fun.
Less Bumps, More Comfort
While riding, various forces from contact with the ground can act on human body, causing leg pain and other medical problems, with more shock-absorbers, CLOUDWHEEL could be an answer to this, as it provides a better cushioning effect to the rider.
Try on new CLOUDWHEEL and enjoy a smoother ride.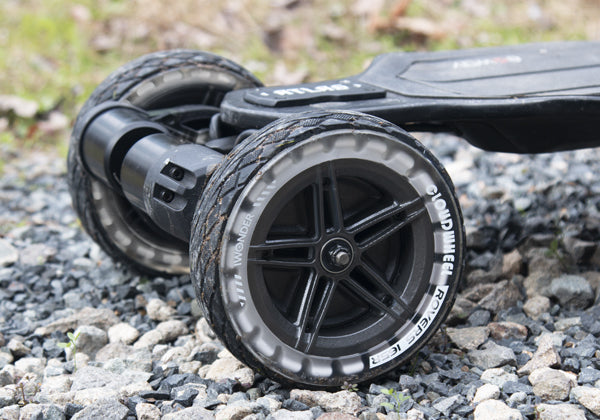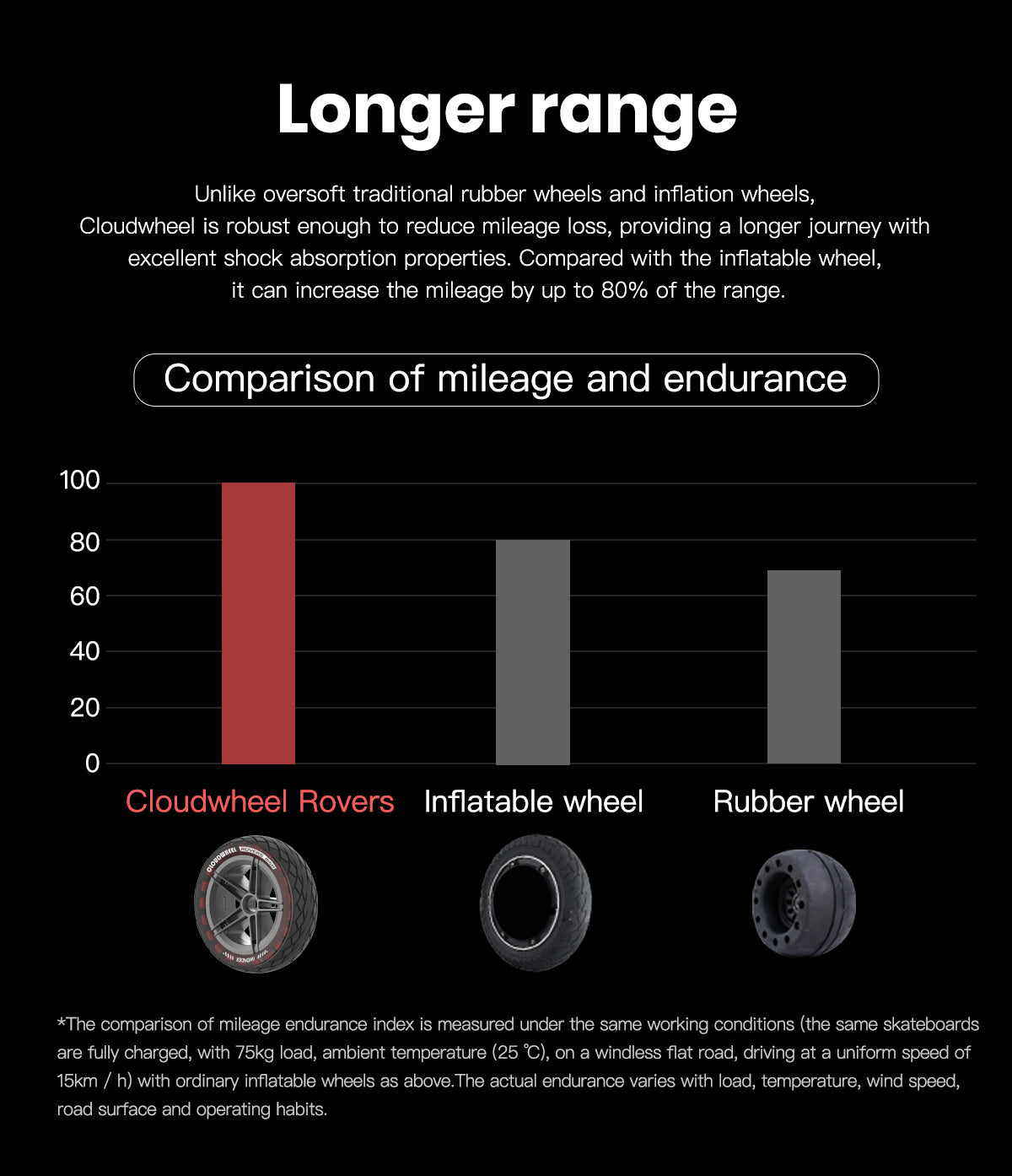 Unique Drainage Tread
Distinctively designed treading, with anti-slip granules to pierce through a thin film of water, can effectively dispel water and prevent loss of traction. CLOUDWHEEL guarantee a free ride in all riding conditions, even in rainy days.
Removable Hub
CLOUDWHEEL are designed to detach and replace hubs and tires, and fit off road hub motor boards.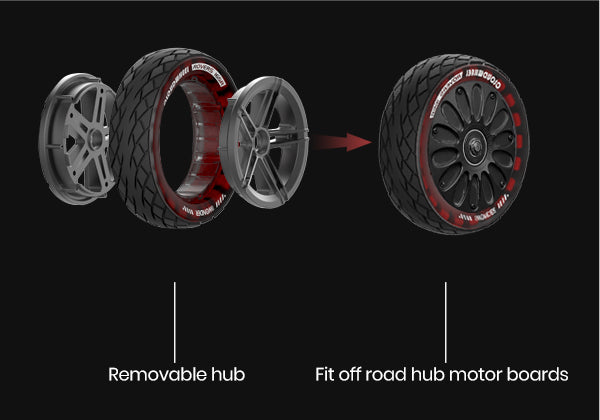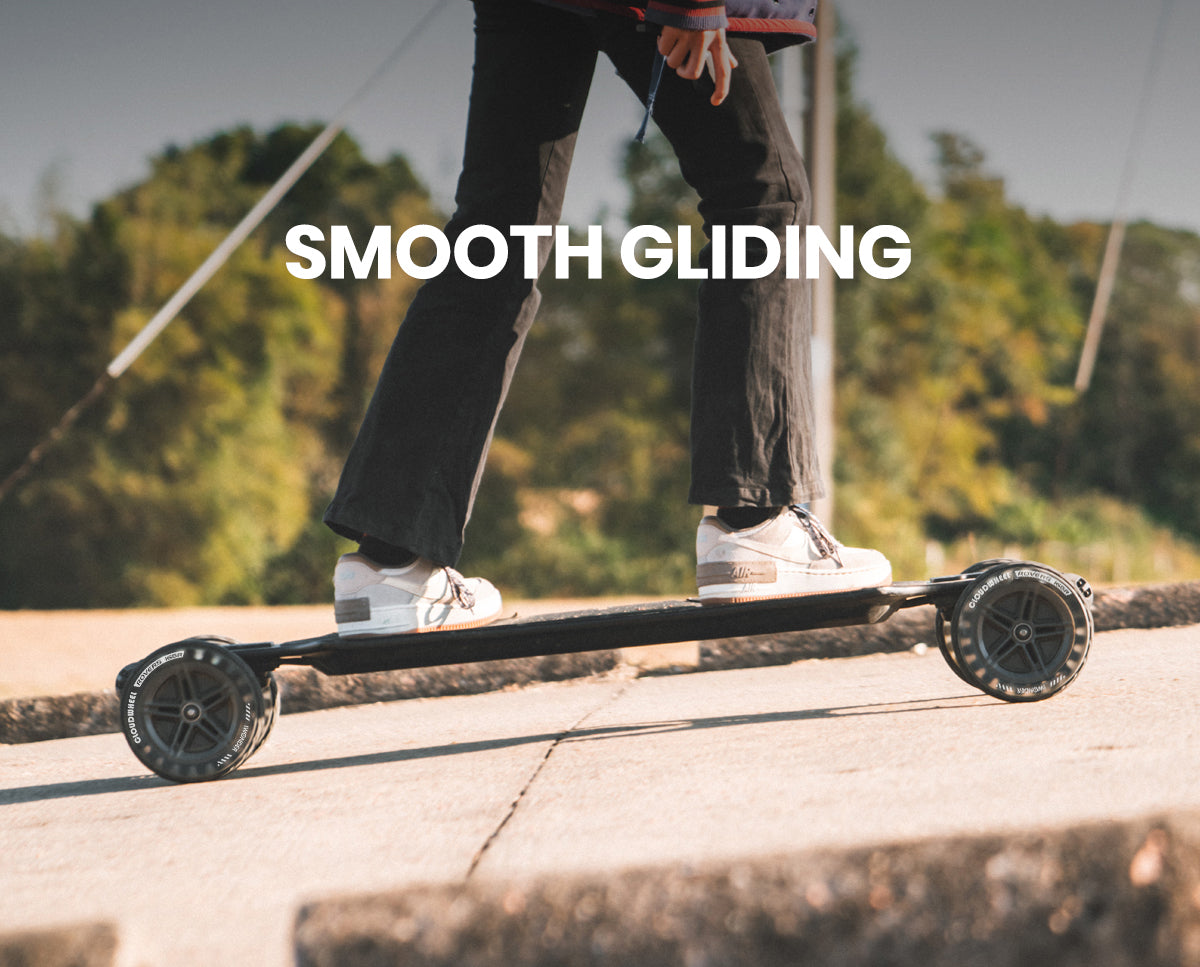 All Terrain Wheel
CLOUDWHEEL Rovers is a perfect choice for users looking for a smooth riding experience, even on bumpy roads. All-terrain wheels allow for traction on pothole, rocky roads and muddy turfs, even if they are designed for urban pavements.
Puncture Proof Tires
CLOUDWHEEL puncture-resistant tires keep Rovers safe from dangerous tire blowouts and flats, much better than conventional all-terrain pneumatic tires.
Slip-Free Wheels
CLOUDWHEEL allows for wet and slippery roads. With non-slip tires, CLOUDWHEEL provides Rovers a safer riding, whether it's going straight or making turns.
Easier To Slide
The surface rubber can ensure enough anti-slip effect when wading, and the internal pu support design can produce a pleasant skateboard wheel drift effect when needed, and will not stick to the ground forever like an inflatable wheel, and stop when wading. There's a perfect balance between slipping and drifting!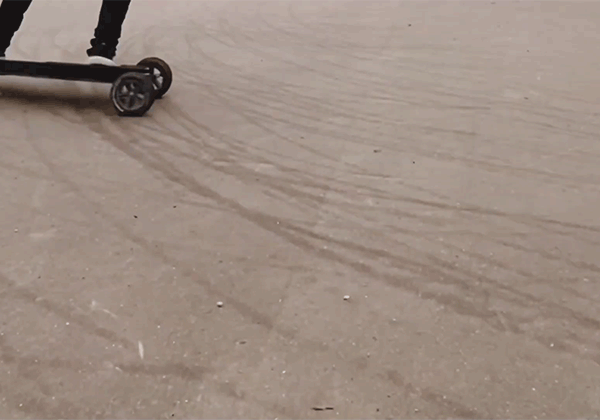 Lightweight Wheels
With a lower density, CLOUDWHEEL can float on the water. Compared to wheels of the same size, CLOUDWHEEL enable less torque loss when start off.
CLOUDWHEEL Series
Discovery & Donut & Rovers
Color options available, there is always a set of CLOUDWHEET fit your electric skateboard.