LONGBOARD WHEEL SPECS
·Diameter: 65mm
·Width: 45mm
·Contact Patch: 38mm
·Style: Rounded lips with stone-ground surface
·Bearing Seat: Offset
·Features: Dual hardness formula
·Core: high-strength, heat-resistant urethane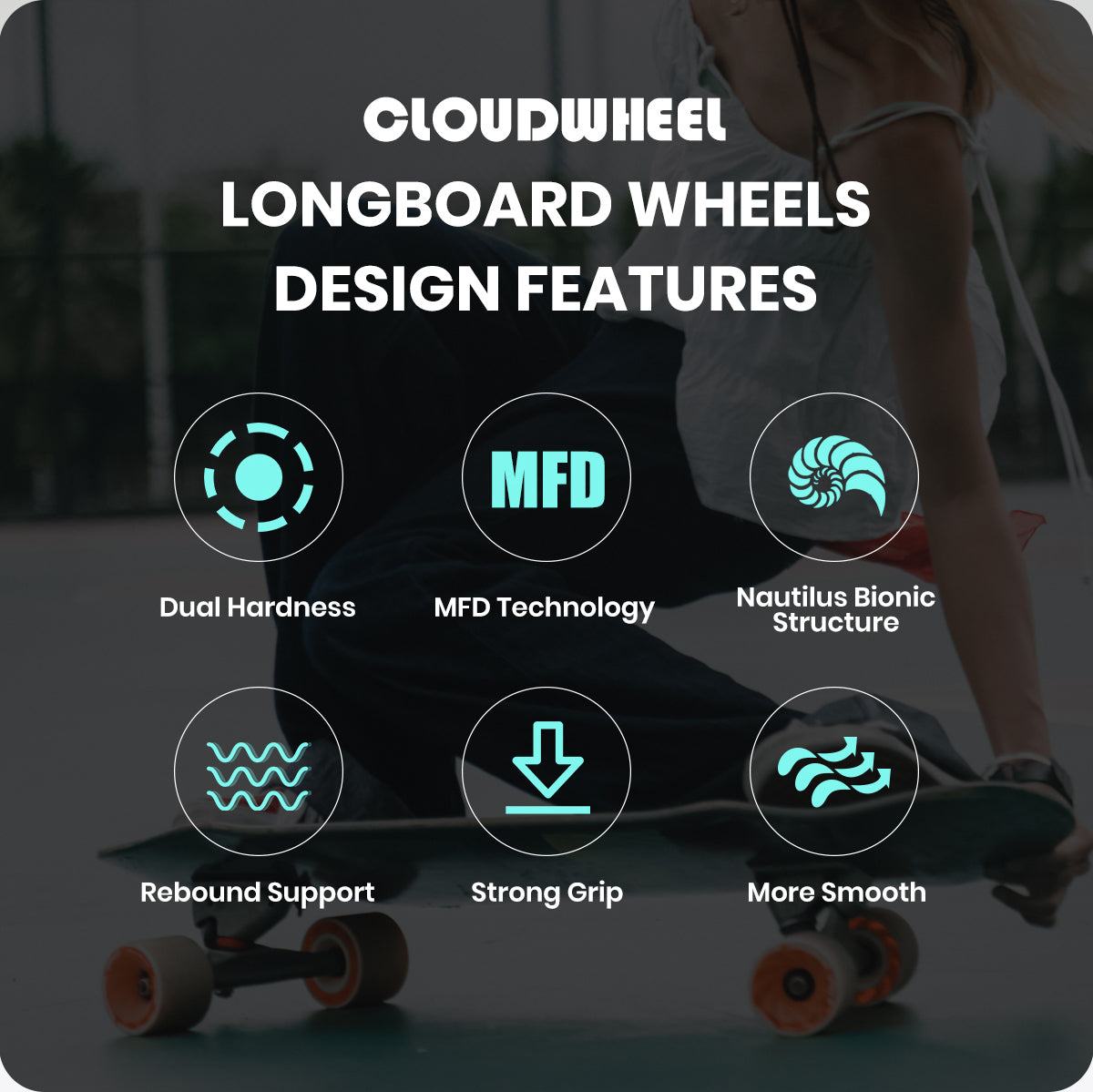 Dual Formula,Dual Hardness!
Using two different formulations, unique spiral structure design, Let the wheels have high elasticity, smoothness, wear resistance and shock absorption at the same time.
Unique Spiral Shock Absorbing Support Structure
The two-layered hardness design provides controlled sliding. It handles uneven surfaces and bumps more efficiently than standard longboard wheels on the market.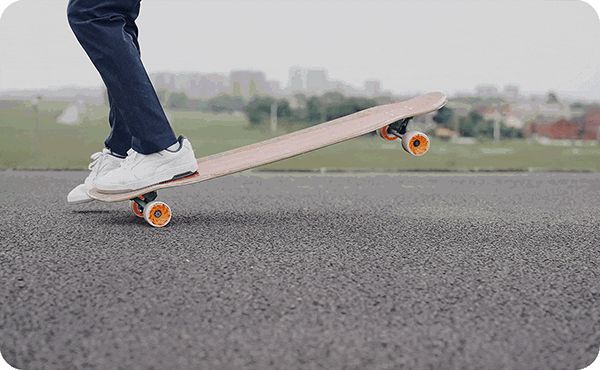 More Smooth
Combination of dual hardness and helical structure design provide a nice balance between gripping and slipping on any surface to fit almost all sorts of rides, Be it a sparsely crowded sidewalk or zipping through traffic jams. Macaron 65mm wheels are better for your surfskate.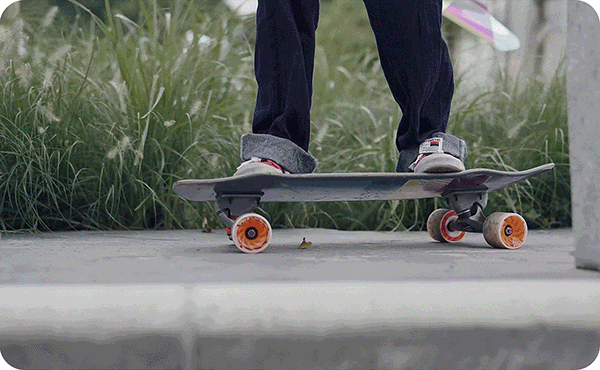 Exclusive Patented MFD Technology
MFD patented technology dampens the shock-based speed decrease and high wear and tear resistance.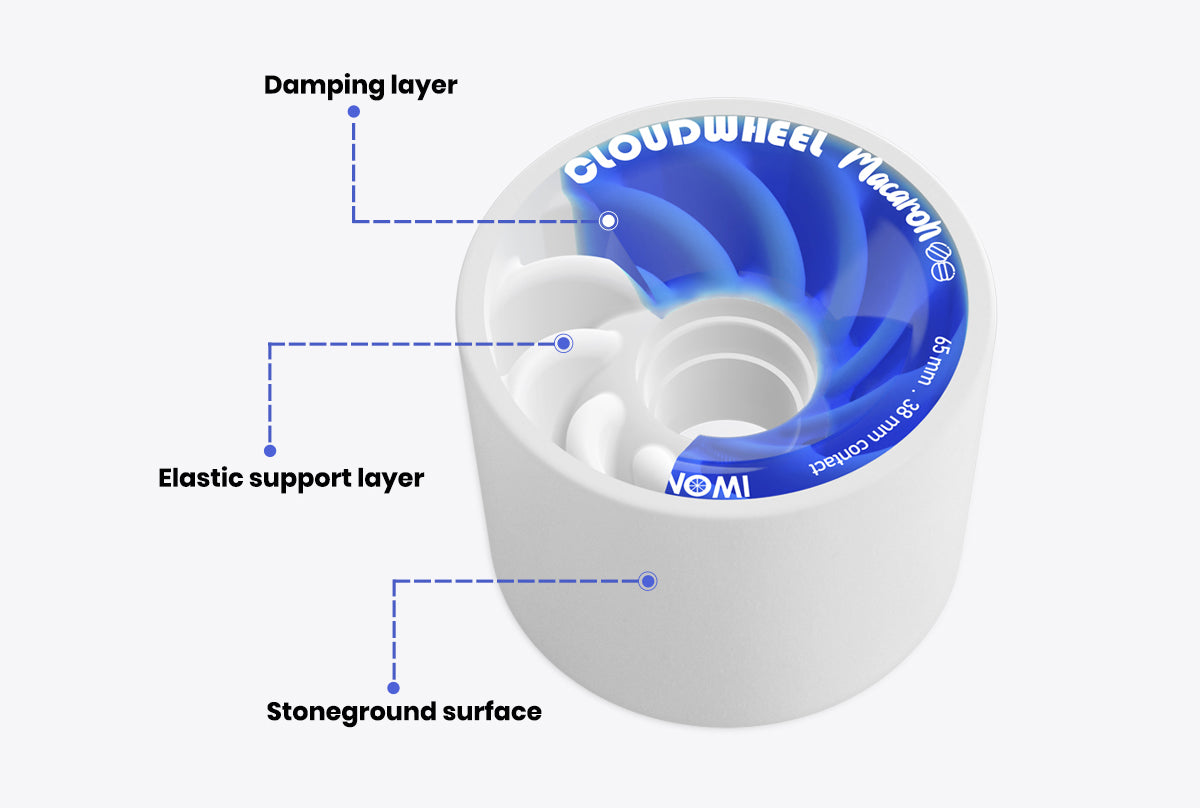 Longer Range
Shock absorption layer further smooths the gliding of your longboard. The elastic support layer provides better torque to functional layers and uses the force as a recurring motion for faster speeds with less effort.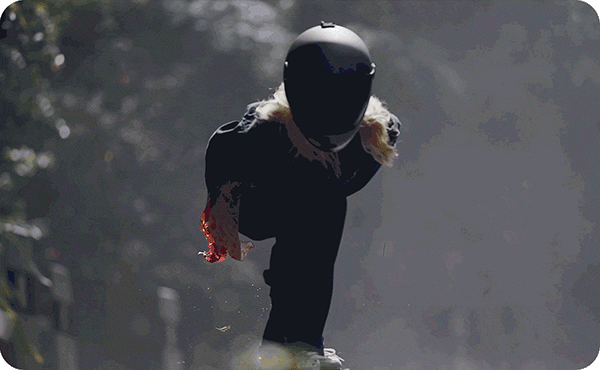 Stoneground Surface
The stoneground surface is designed to put your efforts less into controlling the over-slides and enjoying the well-performed slides and resumes.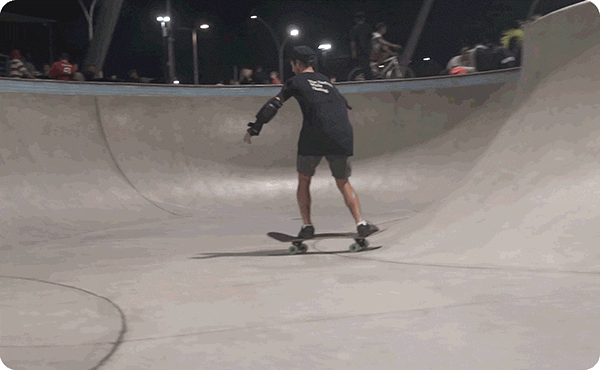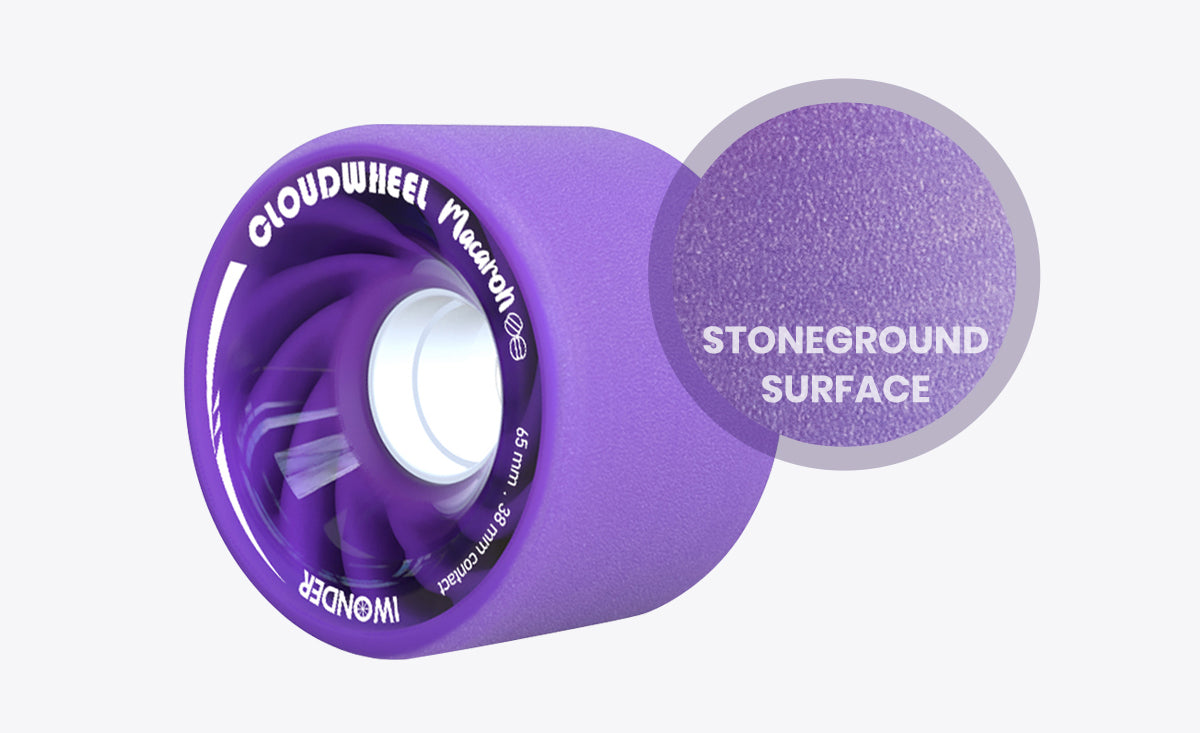 Nautilus Bionic Structure
The adaptation of the Nautilus bionic structure comes from the shell coil of nautilus shellfish that has amazing maneuverability and speed against opposing sea currents. The shell coiling-mode of nautilus has not changed for millions of years, which can efficiently distribute the impact throughout the structure.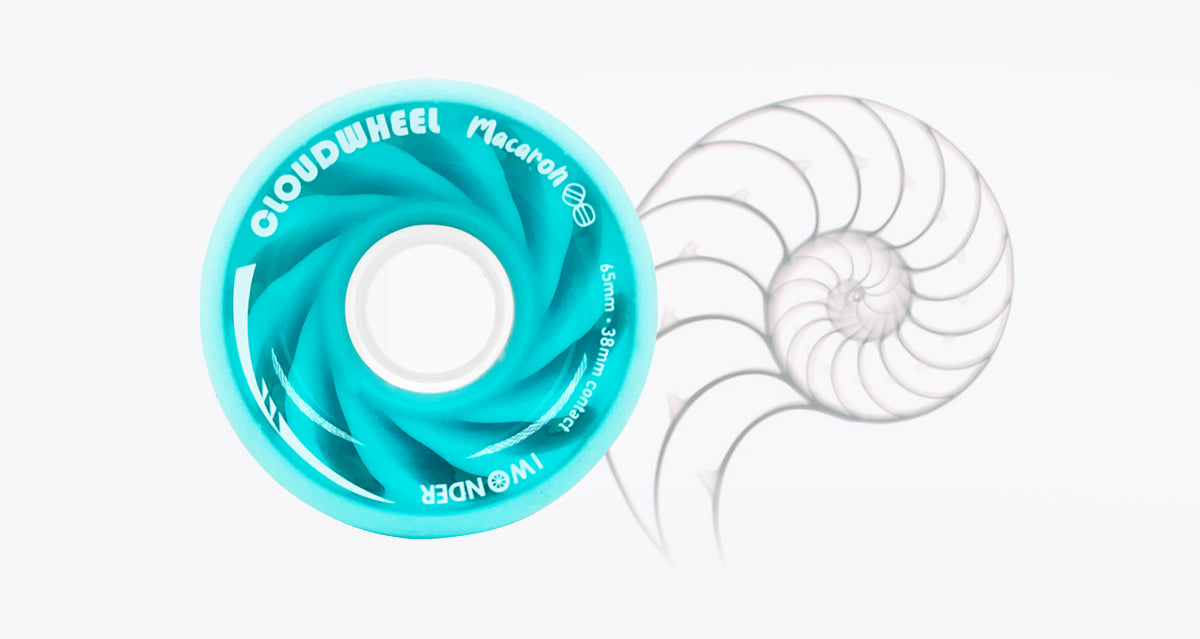 Great Handling
The wheels are not only designed for better speeds but also have high functionality when it comes to using friction during sliding or when drift is required.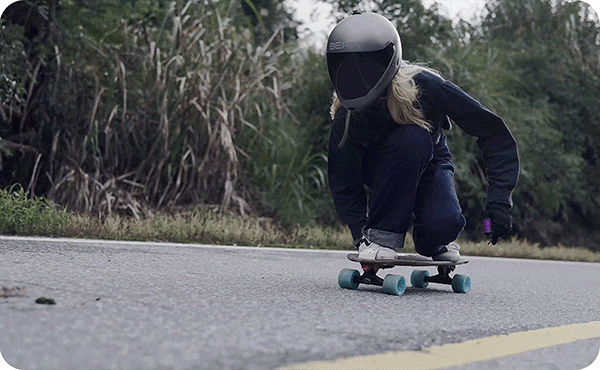 Better For Daily Commuting
We at cloudwheel recognized the design and applied it to our wheels so you may better glide through the downhills or apply less force for your daily commute. Lollipop 70mm wheels are more suitable for your daily commuting needs.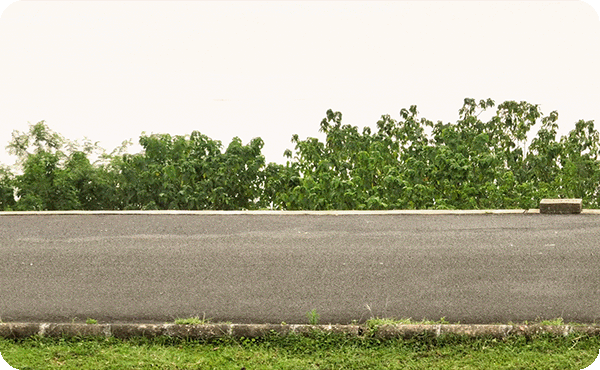 CLOUDWHEEL Sources California-Made High-Rebound Polyurethane.
From the selection of urethane to the finely tuned wheel core, our team has put together the perfect balance between all the variables a customer looks for in a longboard. Be it riding the crowded blocks of NewYork or empty hairpins and the crazy cliffs of California, CloudWheels work in all sorts of climates due to their weather-treated urethane.
Tested By Top Skaters In The World
Dual hardness design of our wheels is tested by top skaters in the world and tweaked to perfection by careful analysis of the data collected during the test trials,where the most talented skaters put their skills to test the limits of our cloudwheel.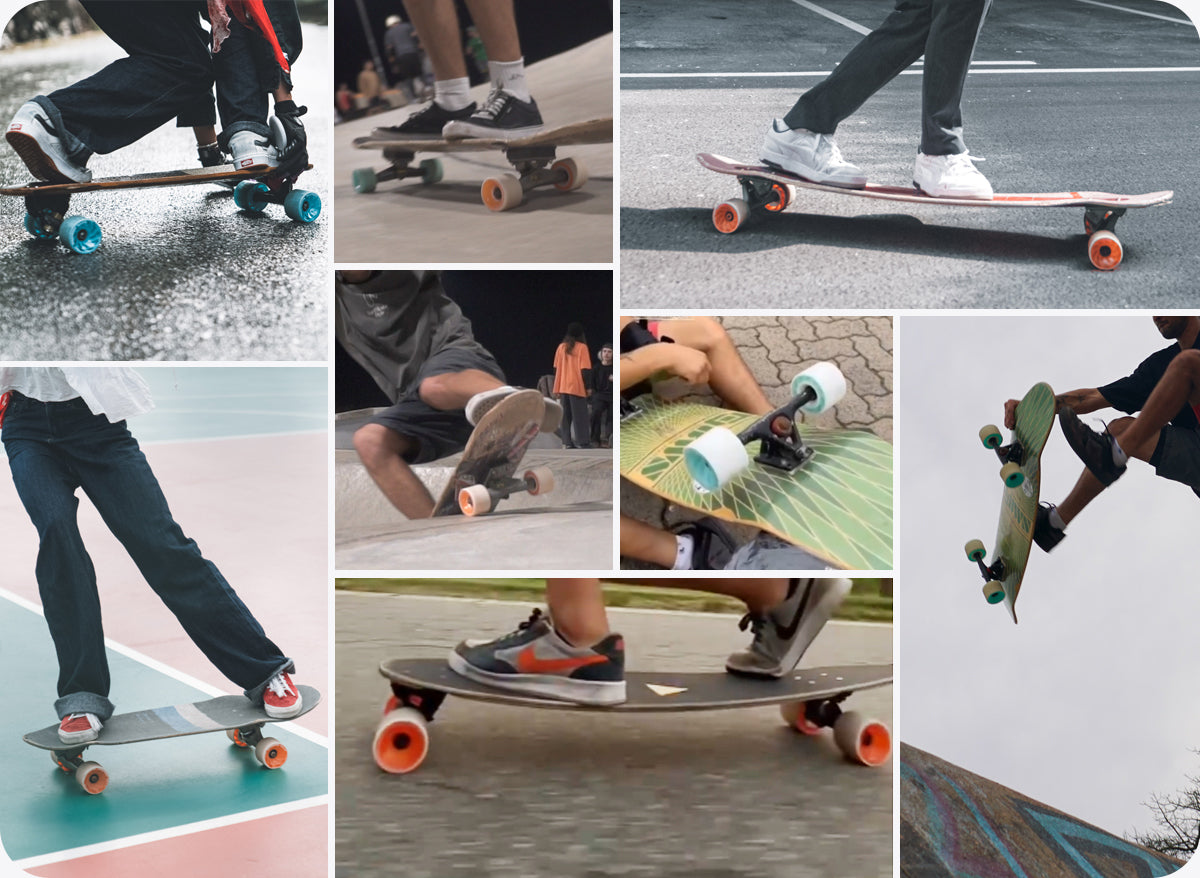 Beauty, Needless To Say.
Eye-catching design ornated with beautiful yet functional, wind-resistant structure. The colors are bright not only for their aesthetics but also for distance visibility which acts as a safety indication.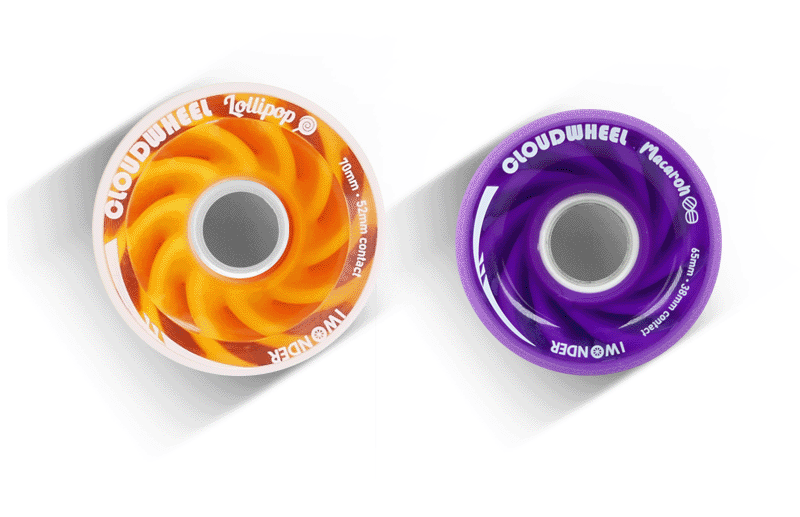 65mm Macaron Longboard Wheels

This freeride wheel will suites your need if you are looking for the flexibility of a shortboard in a longboard. The Macaron 65mm is all about giving you that sweet middle-ground to efficiently do your sliding and higher control.